How to do the Perfect Downward Facing Dog
For this post, I wanted to deconstruct the iconic yoga pose downward facing dog.
It is my favorite pose for several reasons: it's a resting pose and a challenging pose. It strengthens the entire body, including the posterior chain and core. It stretches and lengthens the leg muscles and tones the shoulders. So what's not to like?
When you learn to do downward facing dog well, your body gains a powerful and graceful coordination which is one of the goals of yoga. Your body comes into harmony with all its individual moving parts. Your shoulders are aligned. Your back is supported. Your hands and arms develop strength. If I had to pick one pose to excel at it would be downward facing dog.
It begs the question: how do you do downward facing dog correctly? What does downward facing dog look like when it's done perfectly?
I won't go so far to say there's only one way to do downward facing dog. There are several techniques and different ways to teach downward facing dog. And each have their own advantage. So perfection? Well, I'll say there's a preferred way when it comes to body alignment. And here are some ideas to help you on your journey.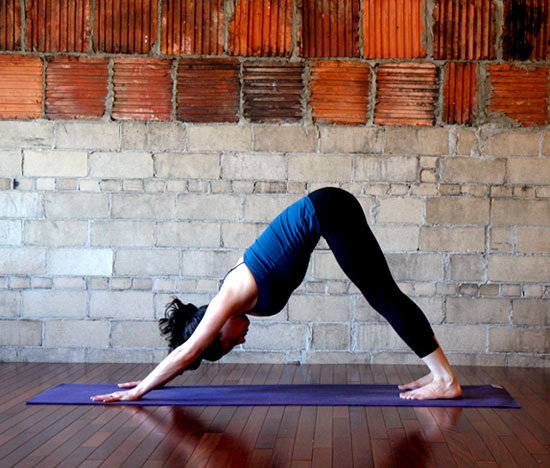 Here you see a common downward facing dog. Wide fingers, good shoulder alignment, and heels pressed to the floor. This stretches out the calves. And it's a valuable stretch, if you have tight calves. And most people do.
But what if you wanted to create a back opener?
A great challenge for a yogi is to learn to curve the tailbone under. This concept is borrowed from re-learning how to create proper posture. You see, the spine get's all sorts of out of whack during our normal everyday activities. And part of a goal from yoga is learning how to take pressure off the lower back. And you do that by curving the tailbone back under where it belongs.
You see in the picture above, the woman has a slight curve in her lumbar spine? Maybe we're nit picking here, but ideally you want to support the lumbar spine by stacking the spine on top of itself. Not curving but supporting the lumbar spine.
Here's an example of me doing downward facing dog.
Here you can see an example of how to support the back by flattening the lumbar spine.
The hardest part of this posture for me is the shoulders. You see you want to be able to support the shoulders, by gently bringing them down the back. Not forcing your shoulders, but allowing optimal alignment. But what the heck is optimal alignment?
When you have your shoulders down the back, it creates space in your chest. You begin to feel this broad feeling as your chest opens, and when your shoulders are properly aligned.
Next you can see a slight bend in the knees. This helps the yogi to refocus your energy on aligning the lower back. It changes downward dog from a calf stretch to a back opener.
And for this pose, I deliberately brought my legs back. That forces me to lift my heels off the ground, and to, again, refocus the posture on the back. And with how much sitting we do each and every day, learning how to properly support the back becomes essential.
Here's how you can do a perfect downward dog:
Nice wide fingers to support your weight
Ears in-between the biceps
Shoulders down the back
Support the lumbar spine
Slight bend in the knees
Hands and feet hip width apart
Especially if you've been doing yoga for a while, you have an opportunity to challenge yourself. Really focus on your body alignment. Find the optimal placement for your shoulders. Learn how to stack your spine on top of itself. And find ways to bring the feet back, and work on creating that back opener.